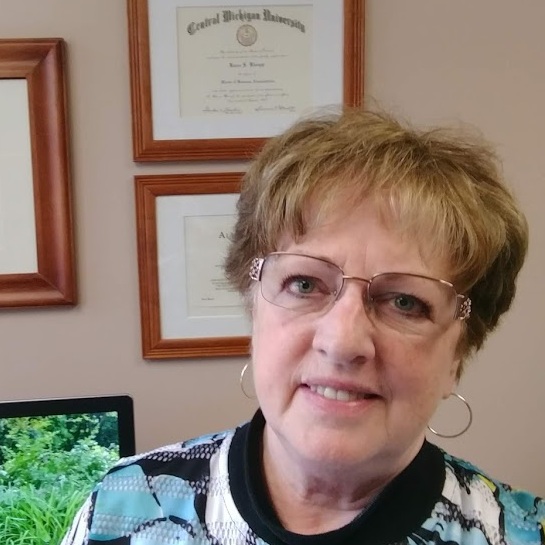 Michelle Alvarez, MSW, EdD Dr. Karen Klumpp received her bachelor's degree (computer information systems) at Alma College, her master's degree (business administration ) from Central Michigan University and her doctorate (higher / lifelong education) from Michigan State University. She chaired several committees for the Michigan Association of College Registrars and Admissions Officers, spending years on the Executive Board and holding the positions of president and past president of the organization. In the late 2000's, she served on the Board of Michigan's American Council on Education – State Network, and chaired the Distinguished Women in Higher Education Award committee. In her local community she was a member of the Rotary organization and then on the board of United Way. In recent years worked on several Higher Learning Commission teams as a Peer Reviewer.
Dr. Klumpp has held a variety of positions at Alma College, including College Registrar, Associate Provost, Vice President for Enrollment, Director of the Center for Student Opportunity, Associate Vice President of Academic Affairs and now Assistant Professor of Business Administration. In each of these capacities, she promoted student success and developed qualitative and quantitative analyses to determine factors that affect student persistence. Dr. Klumpp led retention and enrollment efforts and co-chaired implementation of the Foundations of Excellence program on the Alma campus.
She and her husband have two adult children and children-in-law, as well as five amazing grandchildren.
You can reach her at klumpp@jngi.org.